We're back! More like I'm back. It's been a while since there has been a blog post, but I'm slowly getting back into a groove balancing work and Motherhood.
Becoming a mother has been one of the most beautiful, terrifying, and humbling things to ever happen to me. There have been tears and so much laughter. There have been moments of frustration, but always many more moments of joy.
I was reading Abbie Halberstadt's, M is for Mama this morning before my little one woke up. She writes about how easy it is to fall into the mindset that our children are holding us up in someway from being "fruitful" and "productive". She goes on to say that if we are already mothers the children entrusted to us are our calling. Not our businesses. Not our careers. Nothing else for now, except these sweet little crummy faces that tug on our heartstrings one second, and cause tears to fall the next. If you get a chance to read her book, do it. It has been one of the most edifying things I have read all year.
Now for the gift guide.
Some of you probably already have your gifts bought. Some of you wait until Black Friday when you can get those good deals. Hopefully these ideas can help spark some thoughtful gifts for you and your family.
As always remember that gifts are special and, I think, important, but the most important thing we can give anyone in our lives is ourselves. Be present with your family and friends. Listen to them, laugh and cry with them. Play with your kids, often.
The goal for the childrens gift guides was to spark ideas for gifts that allow for family time as well as spark conversation.
Gift Guide for Boys
Toddler to Teen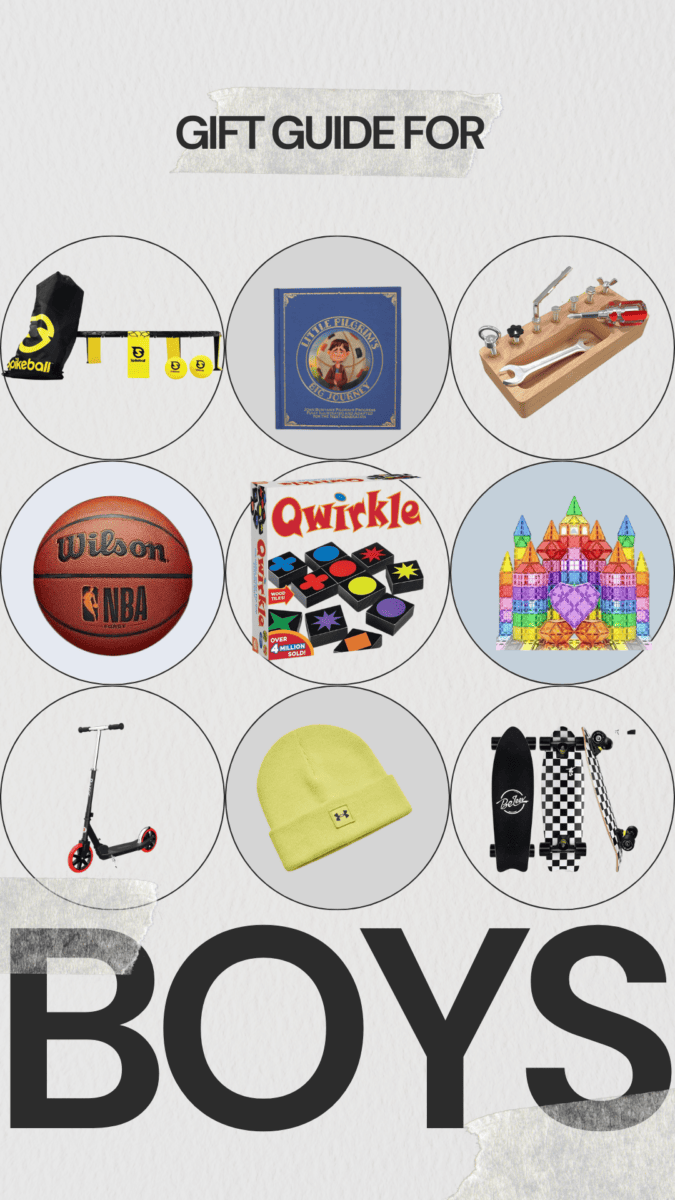 Toddler
Magna Tiles: A hit in every home I've ever been in. They spark so much creativity.
Little Pilgrims Big Journey: A sweet retelling of the Pilgrims Progress for Littles.
Montessori Screwdriver Board Set: Fun board for the little guy that loves to help dad with building things.
Tween:
Qwirkle: A game the whole family can enjoy from Toddler to Teens
Beanie: Any beanie will do. Just a fun new hat to keep those ears toasty warm.
Razor Scooter: Y'all. These were the things of my childhood and I love that they're back. Your kids can have so much fun learning new tricks with these scooters. Countless hours outside. I promise.
Teens:
Skateboards or Longboards: Anything on wheels to help develop balance, dexterity, and occupy time without "zoning out". Maybe they can teach you how to ride too!
Basketball, Soccer, Football, Spikeball: You name it. Grab a ball that your kid loves and spend extra time outside playing the game together. You won't regret it.
Gift Guide for Girls
Toddler to Teen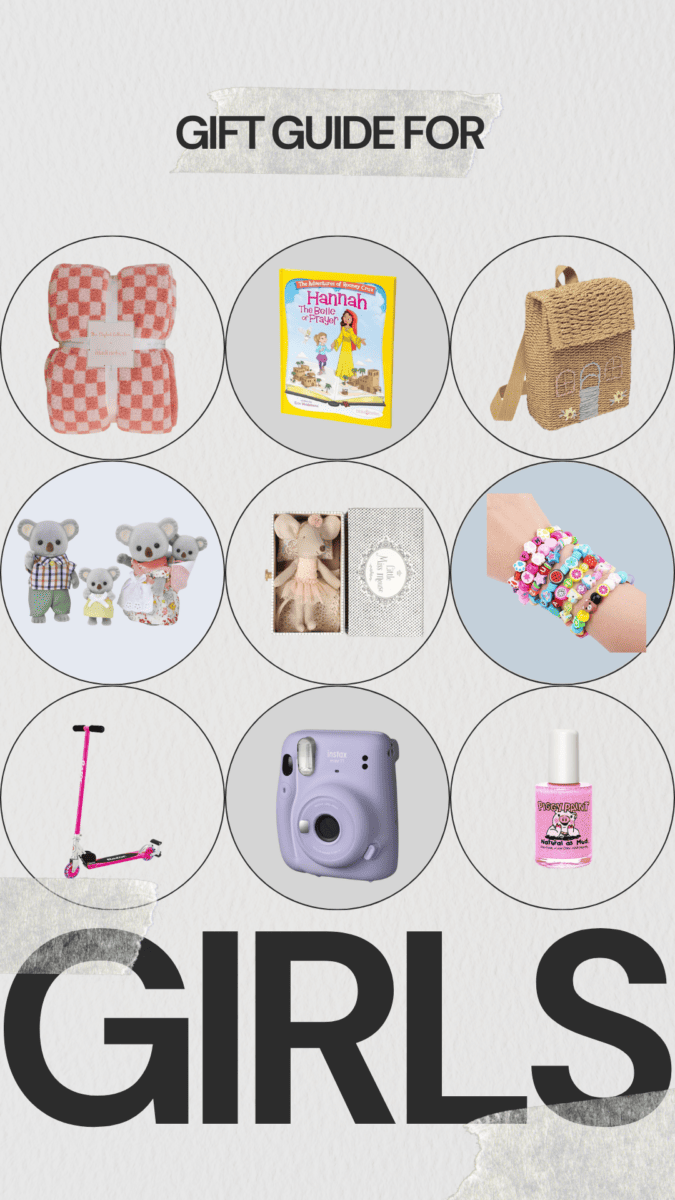 Toddler
Calico Critters or Maileg Mouse in a Box: If you have a daughter or niece in your life you understand the obsession.
Basket Purse: The perfect little bag for church to carry the critters or little mice or anything she is interested in at the time.
Belles of the Bible Book Series: A take on Christian Girls that takes the place of Disney Princesses.
Tween
Bracelet Kit: What girl doesn't love making art with beads?
Piggy Paint: Cute, non-toxic polish that will have your little girl raving.
Razor Scooters: Your daughter will love "keeping up with the boys". Take it from me and my sisters.
Teen:
Polaroid Camera: Polaroids are so much fun to capture all of those highschool memories and keep forever.
Checkerboard Blanket: The perfect blanket to cuddle up in on cold, winter evenings. P.S. This one is super on sale right now!
Gift Guide for Her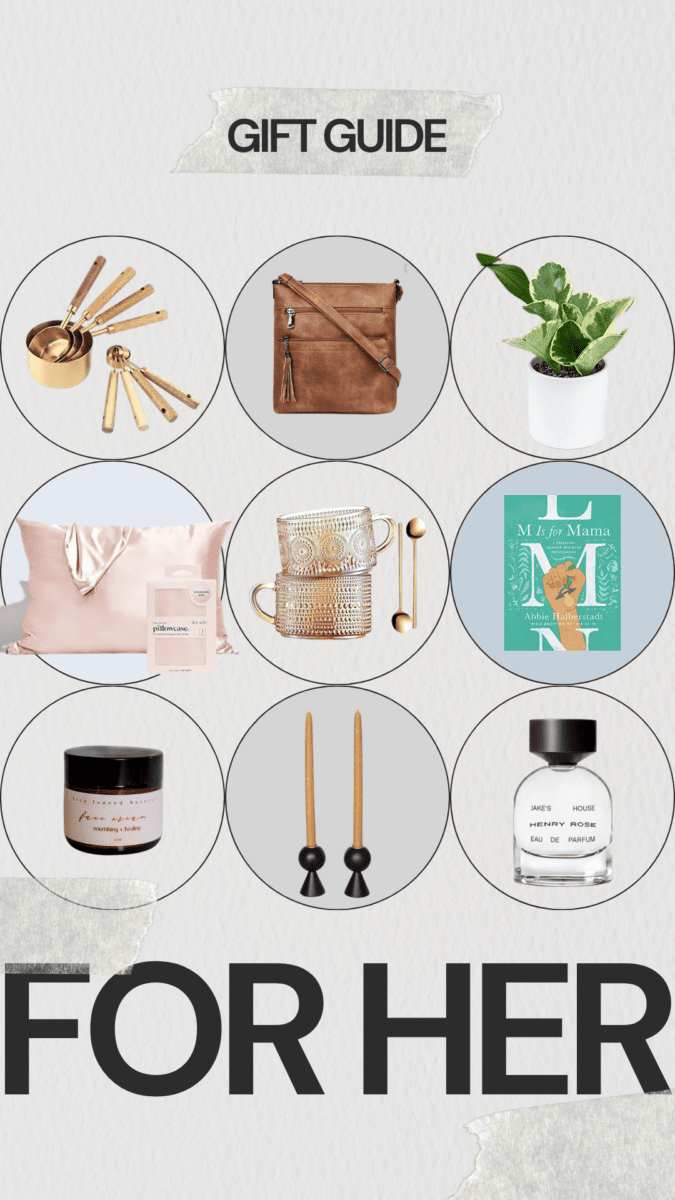 Kitchen and Home
Vintage Coffee Cups: Fun vintage looking coffee cups to drink your morning beverage of choice in.
Measuring cups and spoons: I don't know about y'all but I love using cute things in my kitchen.
House Plants: If your girl is a self-proclaimed "crazy plant lady" you won't go wrong with this little gift.
Beeswax Candles: Amber at Purely Bees has the most beautiful taper candles ever. I've said it every year for the past few years. They will complete any holiday look you're trying to pull together. Get them!
Self-Care
Tallow Face Cream: Free Indeed Naturals has some incredible products. This face cream is one of them. I also love her tallow chapstick in London Fog.
Kitsch Pillow Case: Silk pillow cases to prevent waking up with the crazy bedhead. They're crazy on sale right now!
Henry Rose Perfume: I love these perfumes. Light, airy, and clean.
Miscellaneous
Leather Crossbody: You can't go wrong getting her a purse for Christmas.
M is for Mama: The best book I have read this year. Simple. Edifying. Easy to read.
Gift Guide for Him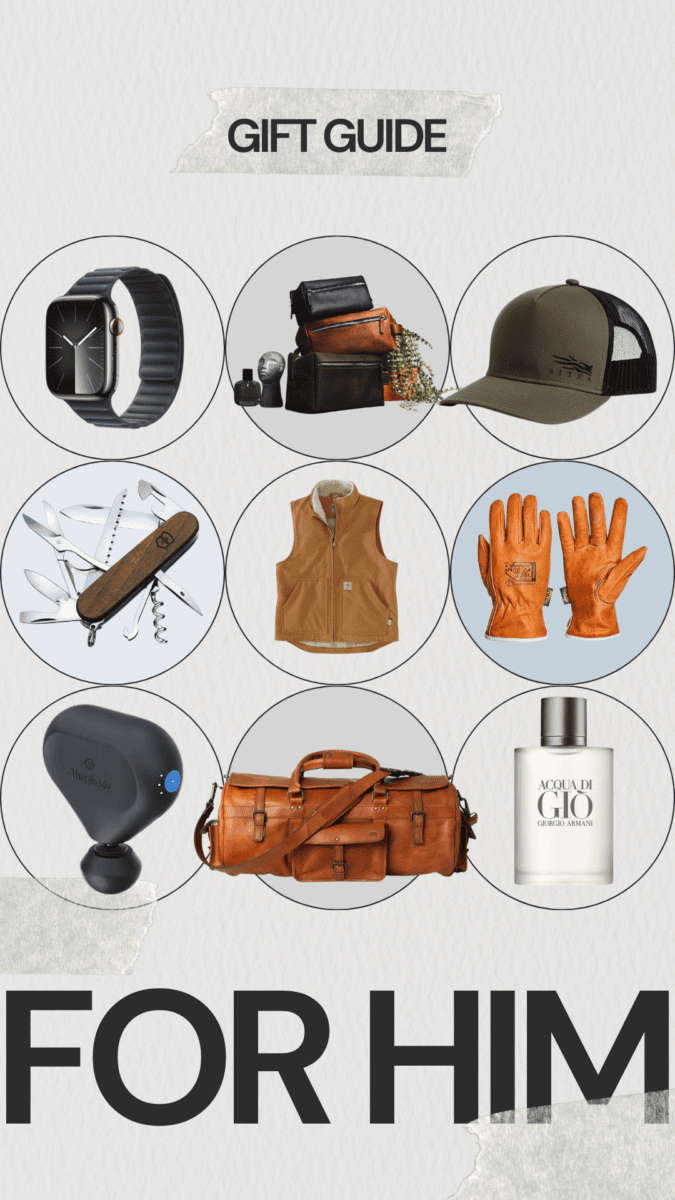 Apple Watch or Apple Watch Accessories: Help him track his health and look classy doing it.
Personalized Dopp Kit: I gave my husband one of these a few years back and he uses it every time we go on a vacation.
Heirloom Duffle Bag: Gifting items that can be passed down is a lot of fun. Reuben uses his weekender bag often and it holds up really well.
Cologne: Timeless scents like Acqua Di Gio are always a good gift for your man.
TheraGun Mini Massager: Help your man recover from working out and playing a hard game of basketball with this massager. Maybe you'll get a few more backrubs as well!
Leather Work Gloves: These are a loved item in our home. He can do all of the hard work without getting his hands dirty.
Sitka Gear: I've heard from my brother in laws that you can't go wrong with Sitka gear. If your man is a hunter watch his face light up when he opens his gift this year.
Carhartt Vest: My husband was gifted this vest. He wears it all the time and absolutely loves it. #husbandapproved.
Pocket Knife: A staple that everyman (and women TBH) should carry on them at all times. I don't think I'm exaggerating when I say that we use one everyday in our home.
Final Thoughts
One final thought. These are ideas to get you started thinking. I do not want to encourage anyone to spend more than they have budgeted.
I am a strong advocate for a slow life, a life unhindered by things.
Spend time with your family outside. Buy games you can play together. Read books together. Sit around a campfire in the snow and see what conversation bubbles up.
Have a wonderful Christmas season.
God Bless.