Description
What's Included in a Kit?
Starter Kit

Weekly planner
2 pockets
Magnet pack

Nerd Kit

Weekly planner
2 pockets
Magnet pack
Fine-point erasable pens
Comparing the Classic and Minimal Planners
Classic
Minimal
2021 Ultimate Weekly Planner: The Basics
The 2021 Ultimate Weekly Planner is a spiral-bound notebook with 207 pages in a convenient 6 x 8-inch size. The spiral binding allows the planner to lie flat easily for convenient note-taking, while the simple design echoes the peace and clarity this organizational tool can help bring to your life.
Every time you open it up, you'll benefit from all the advantages of an organized life, from better time management to a freer mind.
The 207 pages include both weekly and monthly pages, each of which has their own unique use. Get down into the nitty-gritty details in the weekly breakdown, while preserving a bird's-eye view of your life on the monthly overview — it's the best of both worlds!
You'll also appreciate that the dates are clearly labelled in both the week and monthly view, lowering the risk of any accidental mix-ups. Holidays, too, are already marked, so you can begin planning your family get-togethers and vacations now.
The 2021 Ultimate Weekly planner also includes a place to list goals for each month, opposite a beautiful divider page with a Bible verse. This feature encourages you to take some time to look ahead and identify your priorities for every month, keeping you on track throughout the year and allowing space for the things that matter most. Decide on your goals in advance, or leave room to react to life's curveballs. Either way, you can leave it all on the page, so your head can stay clear and focused.
Finally, you have blank, lined pages for notes and journaling, from jotting down telephone numbers to recording that bit of wisdom you don't want to forget. Whatever you need for organization and peace of mind, it's all here in the 2021 Ultimate Weekly Planner.
Choose Your Type: Classic vs. Modern
The 2021 Ultimate Weekly Planner comes in two layouts: Classic and Minimal. While the monthly and note pages are the same between the two options, the weekly pages differ, offering two different full-spread layouts to better serve your own scheduling preferences. What both share are thoughtfully selected motivational words for every week, and the ability to help you align every day with your ultimate goals.
The Classic layout has a weekly summary on the left-hand side, with space to record your priorities and tasks throughout the week, as well as brief notes for each day. This format works particularly well for those interested in having a broader view of the week ahead. On the right-hand side, you can go deeper into your schedule for each day, including Saturday and Sunday. See image below.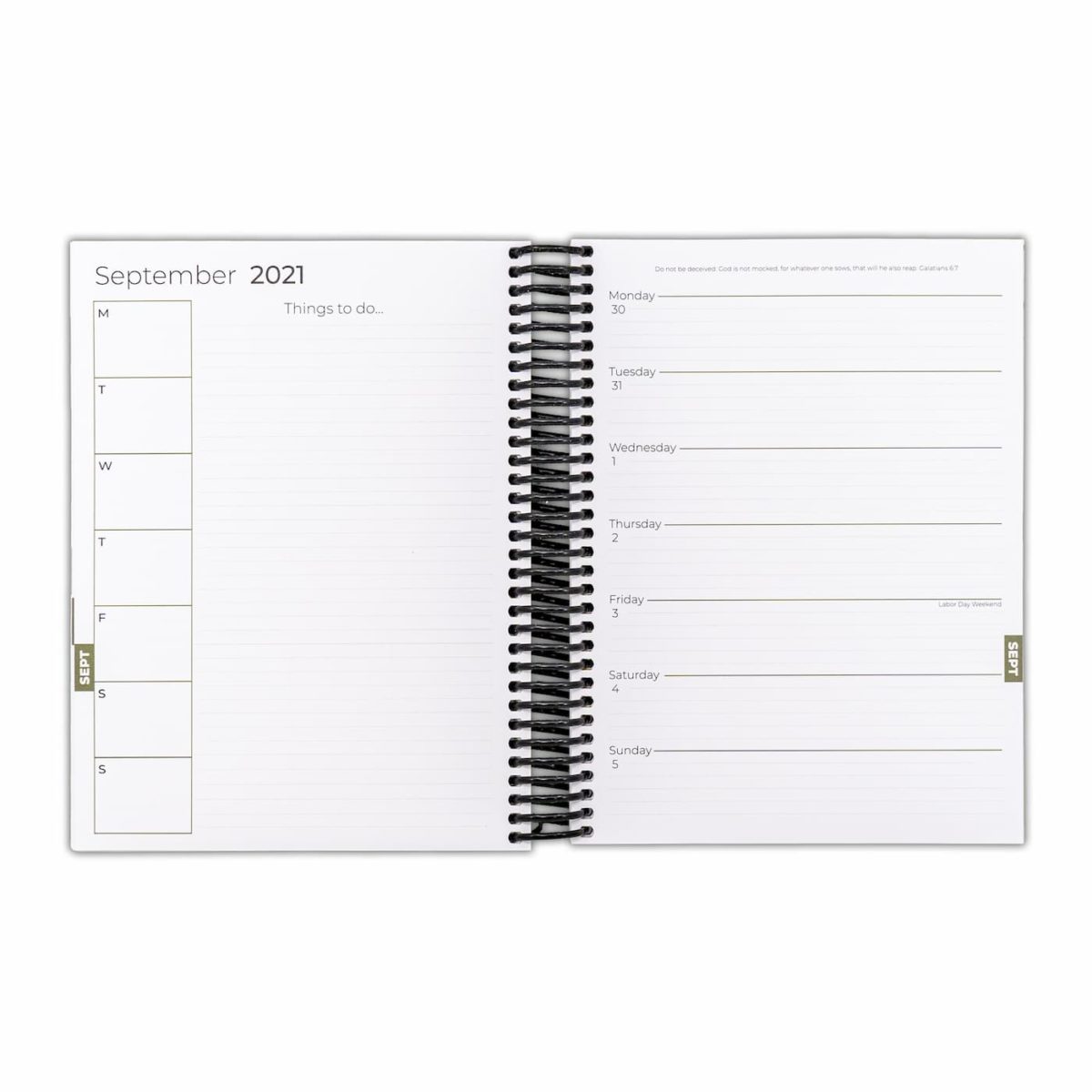 In the Modern layout, the daily breakdown takes up the majority of the weekly spread, with plenty of room to record meetings, activities, and more for each day, including the weekend. You also have space at the bottom of the right-hand page for keeping track of things to do throughout the week, from household chores to calling a friend. This layout is perfect for anyone wanting to drill down into the daily details, while still preserving a bit of space for those broader priorities. See image below.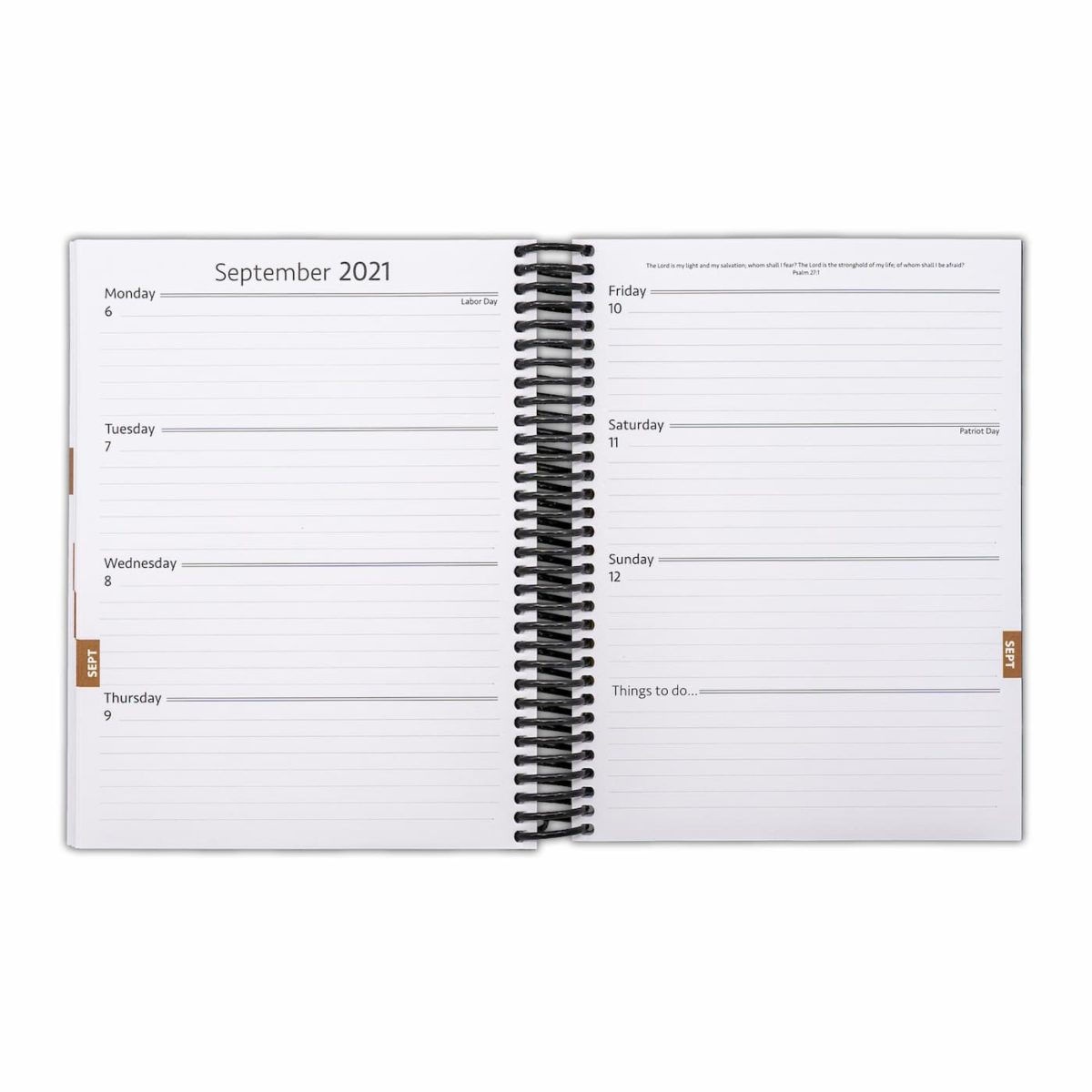 Finalize Your Cart: Options, Add-Ons, and More
If you're someone who — like us! — enjoys saving tickets, business cards, or other mementos, our Easy Adhesive Add-On Pockets are the perfect way to keep those tidbits conveniently in your planner. Each pack includes two durable pockets that can be readily attached inside the cover of any of our weekly planners. Keep all your essential or sentimental items with your planner for easy access, anytime you need.
Ready to get your year on track? Tired of feeling overwhelmed, or wish you had more time for the activities and people that matter most in your life? A peaceful mind begins with an organized schedule, which is why we created the perfect companion to your year. Take back control and live the life you want — one day at a time. Buy the 2021 weekly planner.